Tim Holtz Stampers Anonymous Halloween 2022 Release - Gothic Tapestry Card
Hello Lovelies! Here comes "Something Wicked" courtesy of Tim Holtz and Stampers Anonymous from the Halloween 2022 Release.
My other make for Tim's YouTube Live event may not have been Halloween-esque, but this card has no such issues! I decided to try out some of the latest colors and mediums for coloring the magnificent Gothic Tapestry stamp with Reinkers, Crayons, Mica Stains and Foundry Wax. The stamp can be purchased individually or you can get all the new Halloween goodies in a bundle available at Simon Says Stamp.
Also for Halloween, Tim released new Crayons, Mica Stains, paper etc. that I got a chance to play with on this card and are also available as a bundle from Simon Says Stamp.
This card came to life with a bit of watercoloring using Distress Ink Reinkers. Don't sleep on Reinkers, apart from refreshing your pads, they come in handy for many things!
Apart from the inks, this project will use a couple other stamps from the new release and as mentioned, several of the new Halloween Crayons and Mica Stain. Take a peek at the essentials below:
Essential Card Supplies:
Click here to view the full supply list or check it out the one linked in the gallery at the bottom of this post when you have finished exploring this card.
Today's GIF!
This is an exact reenactment of my happy dance when I first saw
Tim's new Stampers Halloween release! :-)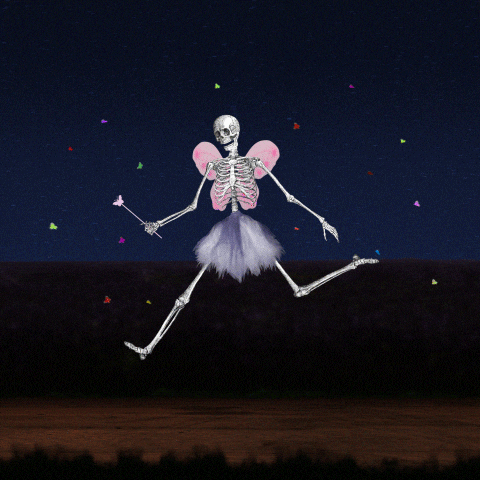 Like this card and my corny GIFs? CLICK BUTTON BELOW
to sign up for blog updates:
SOMETHING WICKED CARD - Watercoloring and Accenting with Crayons, Stain and Wax
Card Base: 5" x 7"
Featuring:
Tim Holtz Distress Ink Reinkers - Uncharted Mariner, Seedless Preserves, Mustard Seed, Cracked Pistachio, Spiced Marmalade, Scattered Straw, Pumice Stone
PROJECT WALKTHROUGH
STAMPING
Trim Distress Watercolor Cardstock to 5" x 7" and stamp with Jet Black Archival Ink.
Heat set ink with a heat tool to ensure that it is dry.
WATERCOLORING
Place 1-2 drops of the selected colors: Uncharted Mariner, Seedless Preserves, Mustard Seed, Cracked Pistachio, Spiced Marmalade into a palette.
I recommend the roomy Tim Holtz Ink Palette, but both of mine were full with Alcohol Inks that I laid out for another project. Tip: Leftover ink can remain in the palette to dry and be re-wet when ready to use again.
Note: the pic shows different colors as I changed my color choices along the way.
For 1 drop of ink, add 3 drops of water per well in the palette.
Selectively color the skull collage as shown. Don't worry about being too precise, this is meant to be messy:
Flowers - Seedless Preserves and Spiced Marmalade
Leaves - Mustard Yellow and Cracked Pistachio
Leaves on Skull - Uncharted Mariner
Flowers - Seedless Preserves, Mustard Yellow and Cracked Pistachio
Ornate Frame Accents - Scattered Straw and Spiced Marmalade
DISTRESSING
When you are done coloring the selected areas, dilute a drop of Pumice Stone Reinker with water and use the largest round brush to roughly "wash" it over the image to create a distressed look as shown.
Spritz the watercolored image with water.
Blot with a paper towel and dry with a heat tool.
Use the Decayed Pearl Mica Crayon to accent to top and bottom left, as well as right cheek of the skull.
Add a little of the Harvest Moon Mica Crayon to the flower areas to deepen the yellow colors and add a subtle sheen.
Use the spray insert in the Decayed Mica Stain to sprinkle drops of stain onto the top left and bottom right sections of the watercolored image. Blot excess stain with paper towel.
Set aside to dry and once dry trim white border roughly to create distressed deckled edge.
Use smallest paintbrush to add touches of Gilded Foundry Wax to cross and heat set.
WET EMBOSSING
Ink the cobweb from the Unraveled stamp set with Distress Clear Embossing Ink and stamp on top right corner.
Cover with clear embossing powder and melt with a heat tool.