Simon Say Stamp - Arched Borders Card
Hello Lovelies! I changed my mind and decided to do a blog post for this sweet card. I made it for my hubby's birthday; don't worry, I am safe, he never reads my blog posts! LOL!!!
A little while ago, Simon Says Stamp released Nested Domed Arches Dies and now in the Yay You release I snagged the Domed Arches Stencils which coordinate with them. I used the stencils to create a little tunnel with love blooming deep inside using a mostly monochromatic color scheme in my husband's favorite color...blue. I know, I know, super corny, but I couldn't help myself!
Let's take a look at the key supplies for a very blue card that is full of love:
Essential Card Supplies:
Click here to view the full supply list or check it out the one linked in the gallery at the bottom of this post when you have finished exploring this card.
Today's GIF!
See! I'm not the only one making tunnels!!!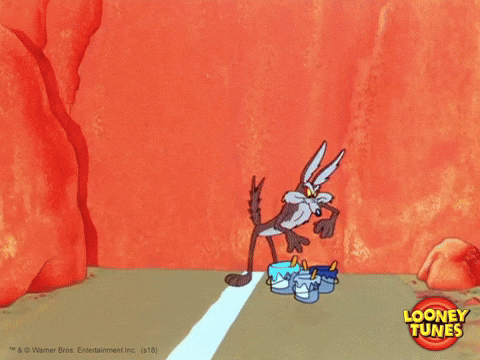 LOVING YOU MORE CARD - Stenciling and Copic Coloring
Card Base: 4 1/4" x 5 1/2"
Featuring:
Card Color Palette
Blue Love Tunnel - Seafoam, Marine, Surf, Cadette and Royal
CARD WALKTHROUGH
STENCILING AND DIE-CUTTING
Secure white cardstock to the base using magnets.
Select the stencil with the largest opening and secure over cardstock using magnets.
Stencil the arch in Seafoam ink using the Teal brush.
Replace largest arch stencil with the next smaller size and stencil in Marine ink.
Repeat, using successively smaller Arches an inks in the following order, Surf, Cadette and Royal. Use the Twilight brush for the last 2 inks.
Completed "tunnel" should look like this:
STAMPING & EMBOSSING
Stamp front of card base using the Arches Background Stamp in Seafoam ink.
Dust the stamping area with a Powder Tool.
Stamp sentiment in clear ink.
Cover with white embossing powder.
Melt embossing powder with a heat tool.
Stamp second part of sentiment in Intense Black.
DIE-CUTTING
Frame largest Arch with corresponding die and secure with Pixie Tape.
Die-cut and set aside while you color.
Pop up the stenciled arch with foam tape.
Adhere "tunnel" to card base.
Use the photos below to guide you making a pair of red hearts for the card front. I was not sure which ones I wanted to use at first, so you will notice that I colored some extras. You can never have too many hearts!
COPIC COLORING
Stamp the little bouquet from the ___ Stamp Set in Memento Tuxedo Black Ink.
Color the bouquet in 3 shades each of red and yellow Copic Markers.
Start with coloring the whole flower/leaf in the lightest color, add shadows/depth with the darkest color and blend the dark into the lighter color using the mid-tone color.
Once all done, it should look a bit like this.
Secure the die over the colored image with Pixie Tape.
Die-cut!
Apply foam tape to pop-up.
The amazing alignment of the stencils make it easily to create this ombre effect.
This sentiment is so sweet and perfect for making puppy dog eyes at your loved one!
I don't know how I ended up with a primary color scheme, but I hope you will forgive me. LOL!
I hope the hubby likes it!
Thank you for stopping by and see you soon!
SUPPLIES:
I listed the products that I have used below. Please note that these are compensated affiliate links used at no cost to you. I really appreciate your support. All stamps used today were part of my maker package from Simon Says Stamp. Click on the icons below each product picture to shop with SimonSaysStamp.com.